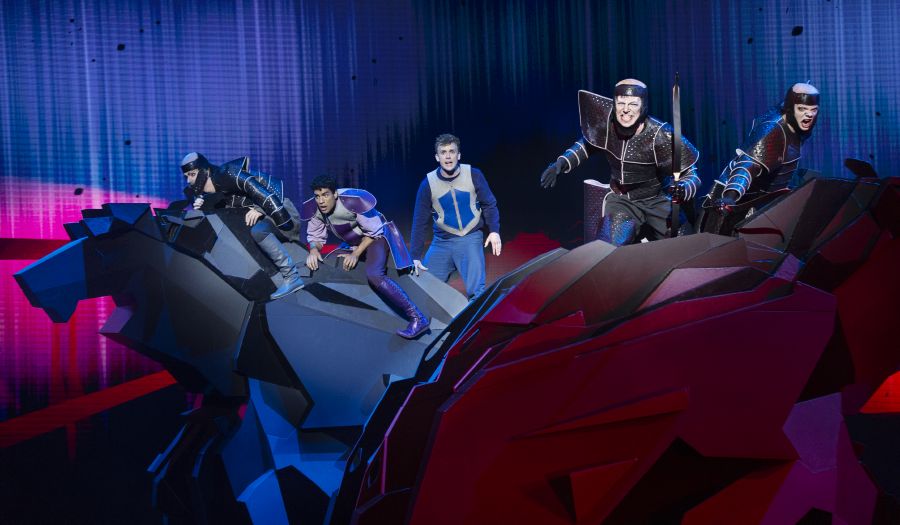 Stagetracker II - Tracking for Audio, Video & Lighting
Superior RF Technology
Unique Narrow-Beamsteering
The RadioEye™ sensor uses… Read more unique patented algorithms for narrow-beamsteering. The narrow beams are automatically steered in the direction of the person to be tracked. The advantage of having narrow antenna beams is to suppress unwanted reflections. 60 antennas with individual amplifiers operating inside every RadioEye™ sensor!
Works in all Settings
No direct line of sight needed

…

Read more

Brightly lit stage
Blackout stage
Direct sunlight
Dense smoke
Laser shows
Temperatures between -20 ℃ and 50 ℃
Interference Free
RF noise from other gear … Read more is suppressed very effectively and eliminates interference with other systems. The RadioEye™ uses narrow-beamsteering to amplify the received signal to a very high S/N ratio. But only the signals coming from the Tags.
Easy Workflow
Few Units
Forget rigging a lot of sensors… Read more around the stage. We have put the complexity inside the RadioEye™ sensor instead – so that you only need 2 or 3 RadioEyes for a complete stage. The RadioEyes™ are quick to rig, fitted with half couplers for standard truss mount.

Quick Calibration
With 4 points marked… Read more up on the stage floor, it takes typically 10 min to get the system calibrated, using any of the Stagetracker II transmitters (Tags).
Touring Friendly
The RadioEye™ sensor is water… Read more and dust resistant (IP67). All parts are shock proof – to be suitable for a life on the road.
Partner Integrations
At the Same Time – Audio, Video & Lighting
Send tracking data to an unlim… Read moreited number of equipment at the same time. Our partnerplug-in's does not affect each other. So you can safely track audio, video and lighting at the same time.
A World of Integration Partners
Integrated with the major… Read more immersive sound solutions, media servers and lighting desks. A plugin is ready to go for every partner integration. No fiddling with OSC protocols or port numbers! It's been tested and verified for you in advance!
Verified by Thousands of Successful Shows
All around the world… Read more Stagetracker has been used on thousands of successful shows. The original ground-breaking Stagetracker system was first developed in 2004 and revolutionized the theater sound experience when released in 2006.

How it works
We do also support other OSC and TCP/IP formats. Do you want integrations for anything that's not mentioned above? Just contact us!