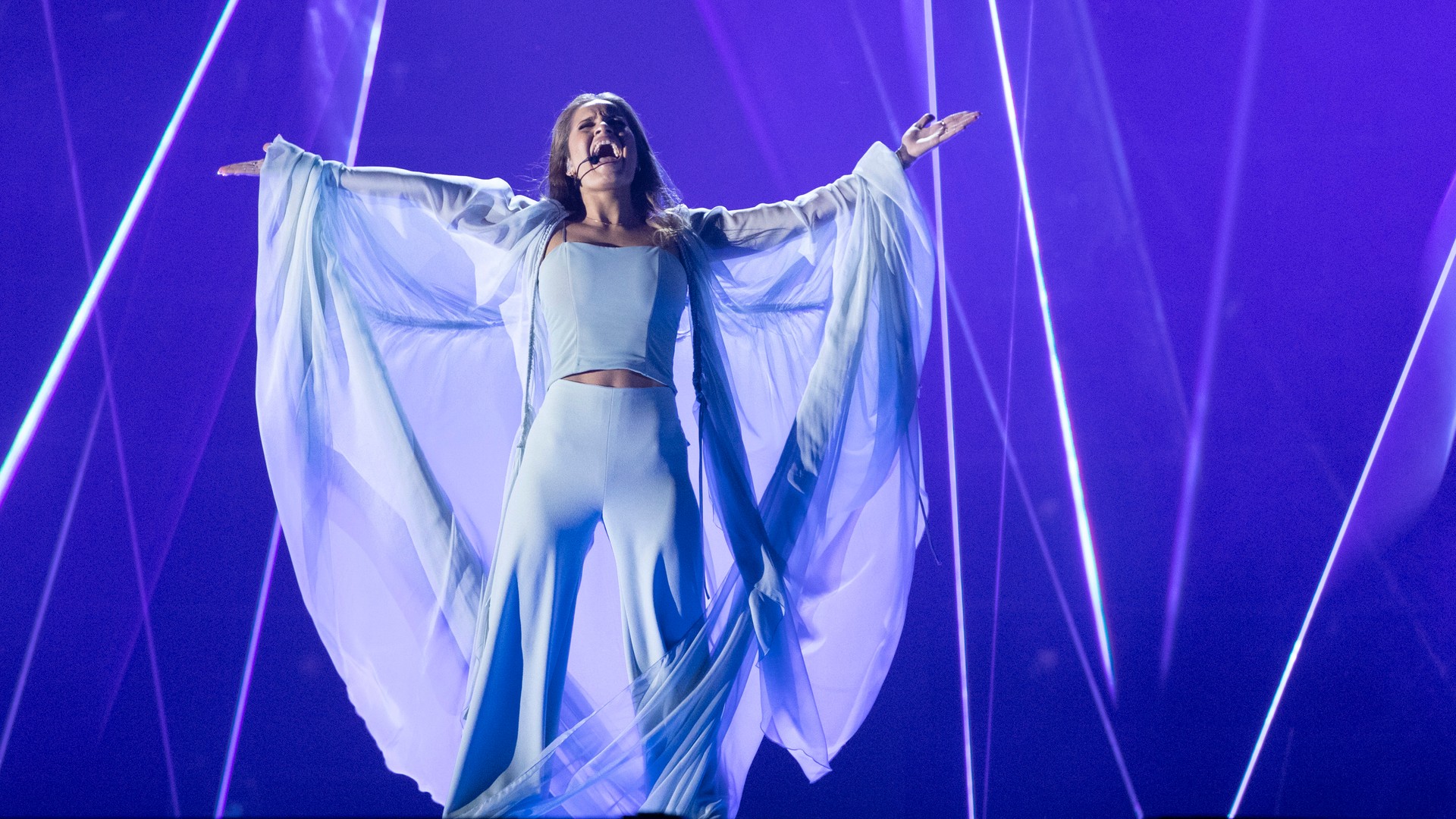 Kaja Rhode – Feel Again
Photo: NRK
Eurovision Song Contest – National finals of Norway
The Eurovision Song Contest is known to be a playground for new and spectacular technologies. This year's show was no exception.
Interactive and live generated content
For the national finals of the Norwegian shows, Norwegian broadcaster NRK used a LED floor as a central visual element on stage. They used a disguise media server to control the content of the LED floor. To be able to create live generative content for the LED floor, they requested the use of a Stagetracker II system. The Stagetracker II has a dedicated and certified disguise software plugin, which makes set up very easy.
The video designer, Jan Martin Vågen, made some of the live visual graphics with Notch. The already seamless workflow of Notch Blocks and the disguise media servers gives the designer a lot of flexibility with generative design. By adding control from the Stagetracker II, this flexibility is taken to the next step. This enables designers to think in a new way, by using realtime positions to manipulate the design.
"I find the Stagetracker II to be a very reliable and intuitive system to use. It is easy to set up and gives good accuracy, while at the same time delivering good visual data on positions and status. It is well implemented into systems like Disguise and GrandMA, which makes the workflow smooth. The fact that it is radio based makes it well suited for broadcast and theatre as you don't need a clear visual line of sight between the Tags and RadioEyes. This of course is also a strength as you can hide the Tags in costumes. For these shows we put Tags into the socks of an artist, which made them invisible to everyone else."

Jan Martin Vågen, video designer
GrandMA3 for lighting control
The Stagetracker II is able to run multiple software plugins simultaneously. In addition to the disguise media server, they also had the tracking system connected to the lighting consoles. The lighting department used the GrandMA 3 series for this, which makes it easy to connect to the Stagetracker II. With the use of the dedicated PSN (PosiStageNet) software plugin, it was just a matter of enabling PSN input on the lighting consoles to establish a connection.
Back light followspots are often a challenge. For this show they were controlled automatically by the Stagetracker II – always spot on the artists!
The immediate response from the artists were really enjoyable. As they walked on stage, both the visual graphics on the LED floor and the followspots responded instantly to their movements. Some of the comments were,
"Is this real?" – "How can this possibly be?" – " This is just awesome!"
– And that's what ESC is all about, isn't it?