Step in to the immersive world and get ready for next generation live entertainment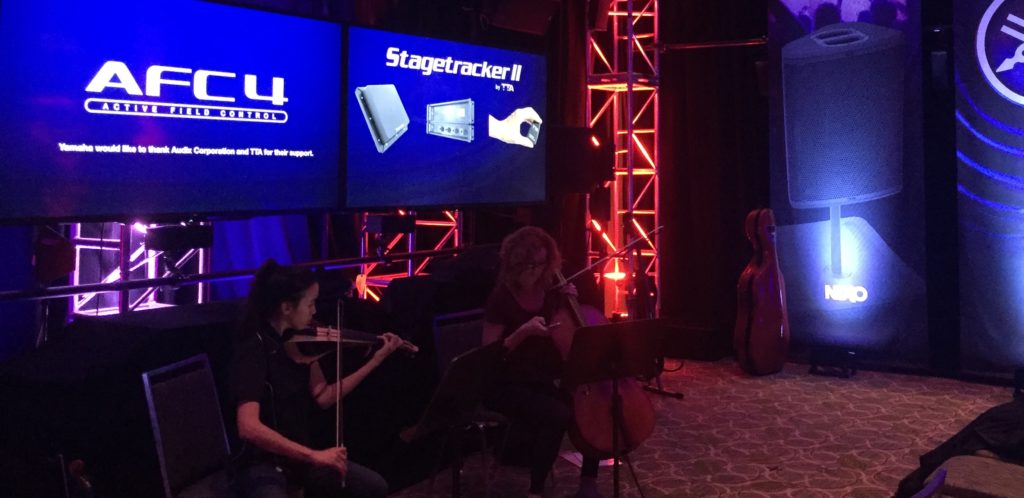 Tracking of electric violin when she was walking around in the room. See video below.
There were lot's of metal in the construction, but that's no obstacle for Stagetracker II's algorithms
InfoComm Orlando
"That was awesome!"

Great atmosphere and smiling faces when Yamaha presented the new AFC-4 (Active Field Control) system – together with Stagetracker II at InfoComm. An american football equipped with a Stagetracker II RF Tag was thrown around in the audience area. A musician played sound effects while the ball was flying through the air. The Stagetracker II Tag transmitted real time positions from the ball to the AFC-4 system. This allowed the sound effects to be precisely positioned to the ball in AFC-4 in all three dimensions. You could actually hear the ball flying over your head! See video below.

Another part of the demo was a violinist playing on an electric (mute) violin. Again, the violinist was equipped with Stagetracker II Tags. While she was walking around and playing, you could hear the sound originating from the exact position of the violinist at all time. To further enhance the experience, AFC-4 translated the demo room acoustics into a cathedral. A truly immersive experience.

Three RadioEyes (Stagetracker II sensors) were mounted in the trusses above the audience. And the system was calibrated within 10 minutes by placing a Stagetracker II Tag in four known positions in the room.
The Stagetracker II control software has a dedicated AFC-4 plugin that makes the setup with AFC-4 a breeze.
Take a look at the trow ball demo
at InfoComm Orlando together with Yamaha.